Help for Charities
Silver Peacock believes it is important to support those organisations that rescue, rehabilitate and help to find new homes for greyhounds and other sighthounds - after all if it wasn't for organisations such as these we wouldn't have our own amazing hounds!
Collars are very symbolic for us, showing care, protection and belonging, as well as providing safety and being items to adorn hound's beautiful necks. So we are always hugely moved and proud to have our collars given to hounds that may never have worn a collar before.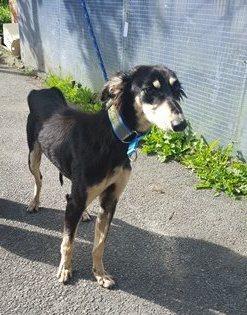 Elvi wearing one of our collars, she was found straying in Galway and this picture was taken within minutes of her being rescued and being given an SP collar. It was almost certainly the first collar she ever wore. She's now found a home with help from Forever Hounds Trust. Interestingly she's also named after one of our collars!
So with this in mind, we as a company do what we can to help different groups across the UK and Ireland both publicly and privately (most notably fostering hounds and making collars for hounds still in rescue kennels).
We are always happy to take back old collars / metalwork, we'll then use them to make new collars for Rescue sighthounds in kennels across the UK and Ireland. Many smaller rescue groups are always in need of sturdy martingale collars in particular, and although many of our collars wouldn't be suitable for the kennel environment we have a specially designed collar that is proving to be more than capable of withstanding kennel life. You can post items to the address at the bottom of the page.
In 2016 we sent over 200 collars to 25 different organisations, most for hounds in kennels and foster homes but also collars for online auctions and other fundraising events.
Due to the number of requests we receive, we always prioritise those charities based in the UK or Ireland that work specifically to care and find homes for sighthounds in need. We can't promise to help on all occasions, but please do get in touch if you think we might be able to help a particular group. E-mail us at info@silverpeacock.com
Collars and leads made for hounds in kennels