About Us
Silver Peacock is dedicated to designing, making and supplying individually created items to people and Sighthounds that know what they want, and aren't afraid to be that little bit different. Many of our items are very limited editions and even one-offs.
We don't like to skimp on quality and therefore only use the finest materials in the creation of our handmade products; from the best printed cottons to beautiful sari silks and top quality webbings and our own buckles and clips especially designed by us for use in our collars.
Silver Peacock is not interested in the ordinary or things you can find everywhere on the High Street, instead we create our own unique style based on our love of fabulous things and our Sighthounds.
Inspired by Perdy our first retired racer, we created our first house collars (back in 2007). Perdy arrived without a collar, so a scrap of Sari fabric and a selection of bought objects, was soon fashioned into the original SP collar! When Jester arrived as a terrified and traumatised reject from the race industry, with a wonderful ability to slip even the tightest conventional leather collar, Alexandra set to work to create a collar for him that would keep him safe - that's where our style of Martingale stems from - It is often copied now, but Alexandra created the original in late 2006 and to this day every collar is still made to that original design with the same care and attention that Jester's first martingale was made with! And so it grew from there, and we work hard to add useful, unique and beautiful items for Sighthounds and their owners, to our range.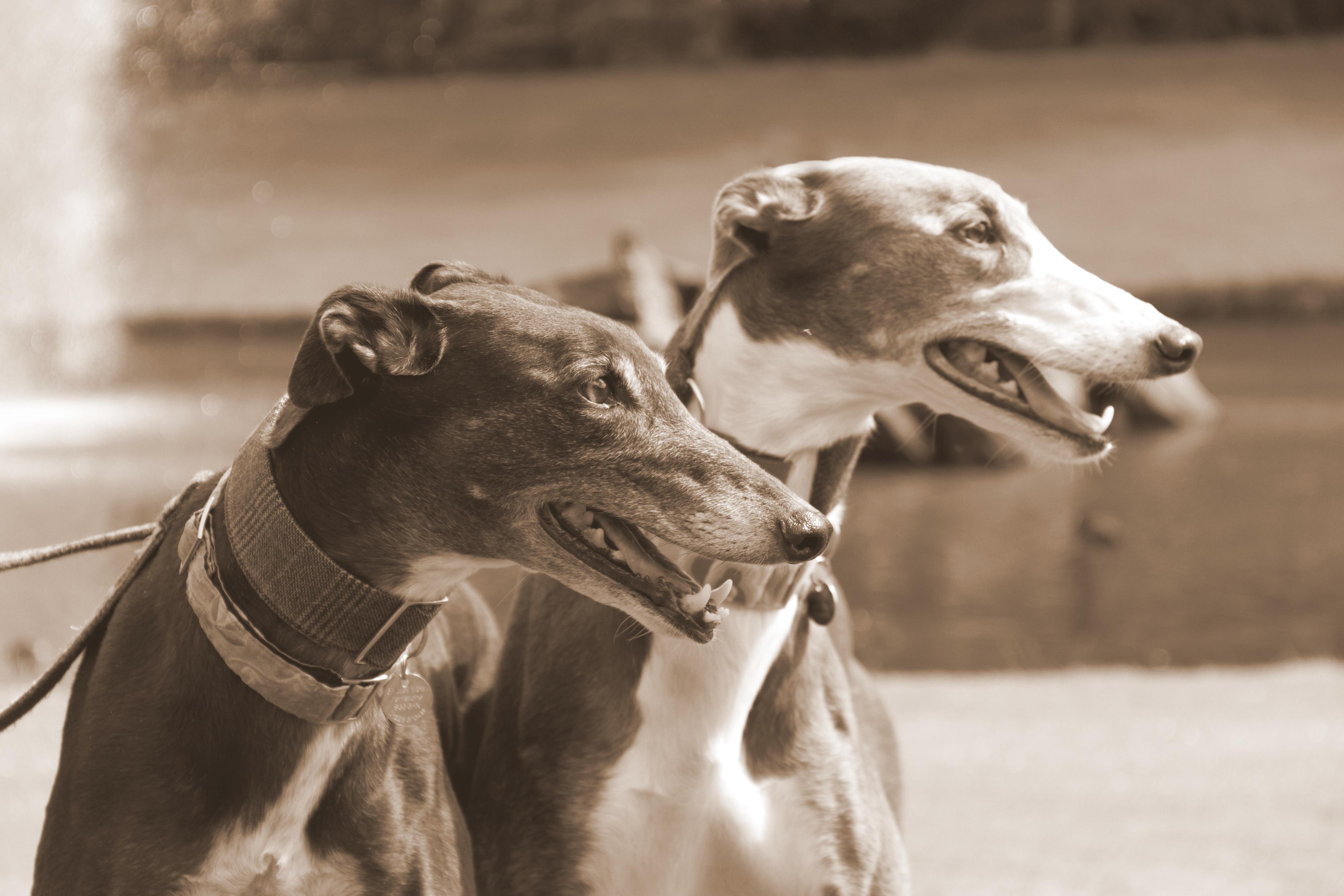 Perdy and Jester - very much missed...
Alexandra grew up in a household full of animals (thanks to a vet nurse for a Mum) from a Borzoi hound called Vaska, and various other breeds of dog all decreasing in size down to Toy Poodles, to goats, chickens, ducks and pheasants; to the more usual rats, hamsters, guinea pigs and rabbits, oh and don't forget the cats, there were always cats!
So today, living in West Yorkshire she shares her home with a Saluki lurcher called Ahzi, an ex-racing Greyhound called Tali, Inara the Azawakh; two Maine coon cats - Darwin and Anoushka; an Irish rescue moggie called Lumi; and an ever changing flow of foster hounds! And not forgetting the hens. Yes that really is a house full!
Left to Right - Inara, Tali and Ahzi