Collar Information and Help
How do I measure my hound for a Silver Peacock collar?
You will need a flexible "dressmakers" tape measure or a peice of non-stretch ribbon or tape that you can then measure with a ruler.
Both our martingales and house collars need to be slipped over the hound's head (i.e. they are non-opening) therefore the first measurement you will need is your hound's head circumference - labelled 1 in the photo - this is the measurement around the widest part of the head over the crown, under the chin and back.
For martingales you will then need to know the measurement of the narrowest part of the neck, high up behind the ears, many hounds have a "notch" at this point - show at point 2. This measurement is the one you use to pick your martingale - the addition of the martingale section in the collar (the narrow webbing loop) is usually sufficient to allow for fitting for sighthound breeds.
If you are buying a house or tag collar you will need the low neck measurement - point 3 - measure around the neck where you would like the collar to sit, usually an inch or two above the shoulders.
If you need advice picking the right size collar for your hound just e-mail us at info@silverpeacock.com with these three measurements and we will be happy to help!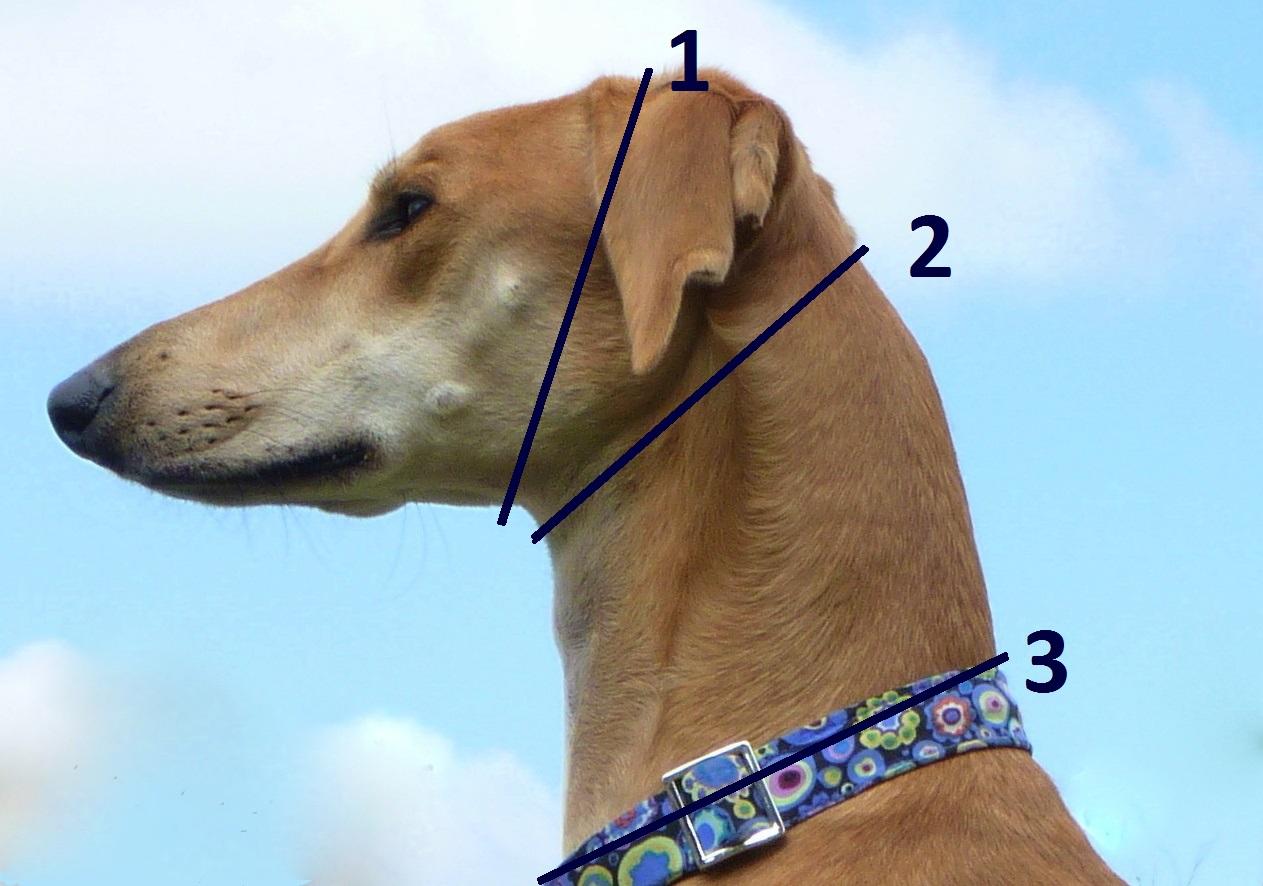 I have a Silver Peacock house collar and the buckles seem to stick in my dog's neck, and it doesn't adjust properly... What's wrong?
Our house collars are designed to adjust to allow the collar to be fitted to your own dog and for it to be put on and taken off, easily. They are also designed to be gentle on delicate sighthound necks.
If your house collar is on the dog with part of one of the metal buckles against the dog's neck, you've got the collar's loops the wrong way around.
To make sure the collar is worn correctly; find the section of the collar with the d-loop sewn in, and arrange the loops so that this portion of the collar is against the dogs neck (in contact with the fur). You will find that the collar will be much easier to adjust, it will lie better on the dog's neck and there will be no metal parts against the skin.
The picture below, shows the correct arrangement for the collar.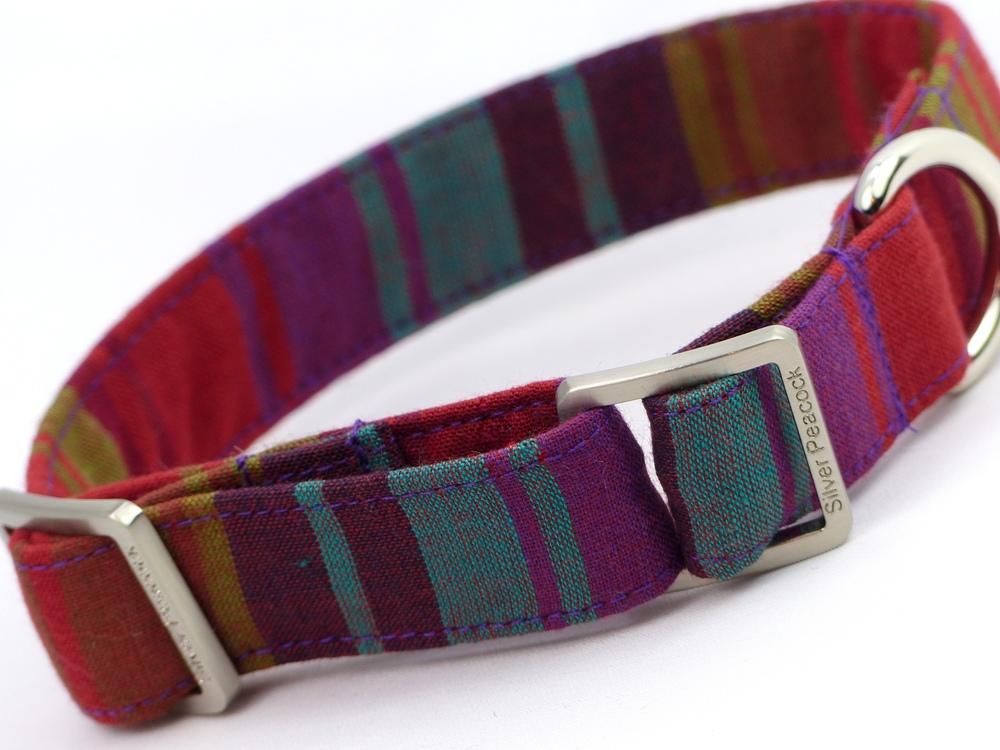 How do I fit my Silver Peacock Martingale collar to my dog?
First of all the collar should be arranged as shown in the picture (below left). When slipping the collar on to the dog the narrow webbing section should be one side of the neck and the wide fabric section on the other, i.e. the wide fabric section does not go all the way around the dog's neck.
For a martingale to be most effective the two large d-loops should not quite touch when the thin webbing section is pulled tight to close the collar (see picture below right), the collar should be high up on the dog's neck behind the ears.
To increase or decrease the size of the collar the square buckle should be moved to the left or right along the fabric section of the collar, to the required size.
Our martingales come in two widths but please note we do not recommend the narrower 1½" (4cm) version for larger and/or strong; keen; or nervous dogs, for their own comfort and safety.
We do not recommend martingales are left on unsupervised hounds - they are designed to be used with a lead and therefore should be taken off at the end of the walk. If you are looking for a collar that can be left on your hound, please take a look at our house collars.
What sort of quality are your collars?
All our items are made with safety in mind first, that is our priority, and we take this very seriously. We test everything we make very carefully (yes, we have even towed a car using one of our martingales) and are more than happy to recommend our collars to owners of large keen Sighthounds. The chances of your collar breaking are slim to none due to our choice of materials and manufacturing techniques. However, please examine your Silver Peacock collar (as with any other collar) regularly to ensure that there are no problems with the collar that would affect it's safety. Any collar showing signs of wear or damage (excluding cosmetic damage) should be replaced. Please contact us if you need any advice, we are always happy to help.
Every item offered for sale on the Silver Peacock website has been made to the highest standard of quality, from top quality fine fabrics such as silk, satins and 100% cottons. With this in mind, some items are going to be more delicate than High Street products - they are luxury items after all!! So a little care may be needed to prolong the life of some items - just like your favourite dress or pair of shoes! Satin and woven sari fabrics in particular are more susceptible to wear and should therefore be cared for accordingly to prolong their looks.
Every hound is an individual, and therefore wears their collar differently - lifestyle, temperament, habits, energy levels, coat type and skin chemistry (amongst other things) all plays a part in how a hound will wear their collar, this means that Silver Peacock do not guarantee fabrics against this normal wear and tear, and how long any collar will last can not be predicted. but in the unlikely event of you having a problem with stitching, we will be happy to repair your collar your you.
You as the customer are responsible for determining the suitability of our collars or products for your individual needs, hound's temperament and/or lifestyle. By purchasing, you acknowledge that you accept all responsibility for the use of the collar or product. If in doubt, please put your hound's safety first!
Please note that all items are hand made, and as such may vary slightly from the image shown. There may also be minor variations in actual dimensions and specifications.
How do I care for my Silver Peacock collar / lead?
Most collars and all leads (except Ultimate leads) can be machine washed if necessary, but because of the varied fabrics we use it is impossible to give recommendations for each collar.
As a general guide:
Collars made from delicate fabrics (these are identified in the descriptions but include chinese brocades and sari fabrics) may best be spot cleaned with a fabric cleaner. Please use your discretion, or contact us for our recommendations.
Hand washing is the best method for many of our collars (Tweeds, silk blends etc) - we recommend you remove tassels, charms etc, and place in cold water with a mild detergent (one for wool and silk is perfect), rinse well.
If required though, the majority of our collars and leads can be machine washed (printed cotton and velvet collars, and webbing and "all velvet" leads in particular) - we suggest first removing all tags, and place in a laundry bag or pillow case with the end knotted. Use a mild detergent (one for wool and silk is perfect) on a delicates or cool wool cycle.
All collars and leads should be air dried away from direct heat sources (please don't leave on top of the radiator or range cooker!).
We machine wash the majority of own dog's collars, and (especially) leads, regularly and have always been pleased with how they wash.